Westfield's Dental Department
Posts for: August, 2013
By Krause Dental
August 21, 2013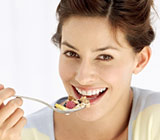 What and how you eat and drink has a significant impact on the health of your teeth and gums. Therefore, an effective oral hygiene regime must take your diet into account.
Acid is your teeth's enemy; it can erode their protective enamel coating (a process called demineralization). Certain foods and beverages (such as citrus drinks and coffee) contain it, and it's produced by bacteria in your mouth that feed on dietary sugar and release acid as a byproduct (a process called fermentation). Your allies are foods and beverages that neutralize acids, provide minerals and vitamins to repair tooth enamel, and stimulate saliva.
Sugar & Decay
Sugars, the leading promoter of dental decay, exist in many forms in our diet. Some occur naturally, while others — referred to as "free sugars" — are added by the manufacturer, cook or consumer. The latter are most often linked with decay. Soft drinks are the primary source of dietary free-sugars in the U.S.
Sugars in fruit, vegetables, milk and unprocessed, starch-rich foods such as rice, potatoes and whole grains, do not appear to be harmful to teeth. Note, however, that dried fruits contain a highly concentrated sugar level and can stick to tooth surfaces. The sugar substitutes xylitol and sorbitol appear not to promote decay. In fact, there's evidence that chewing xylitol-sweetened gum three to five times daily for at least five minutes (after meals) stimulates saliva flow, which helps protect against decay.
Acids & Erosion
In addition to eroding tooth enamel, acidic foods and beverages create an environment where it's easier for decay-promoting bacteria to flourish. Saliva can reduce acidity but it must have time to work, at least 30–60 minutes. That's why behaviors that maintain acid levels, such as sipping coffee throughout the day, can be harmful.
Saliva-Promoting Saviors
Saliva is a front-line defense against erosion and decay. It helps remove food particles and contains minerals that help neutralize acid and promote remineralization of the tooth surface. Foods that stimulate saliva and/or contribute essential minerals include:
Cheese — stimulates saliva and is rich in calcium, contributing to the re-calcification of teeth and protecting against the loss of calcium,
Cow's milk — contains decay-counteracting calcium, phosphorous and casein,
Plant foods — are fibrous and require chewing, which mechanically stimulates saliva,
Water — keeps you hydrated, which is important for saliva production and preventing dry mouth (a condition that promotes acid-producing bacteria), and helps wash away food particles; fluorinated water bestows the protective properties of fluoride (a compound that makes tooth enamel more resistant to acid erosion and promotes re-calcification).
As you can see, brushing and flossing effectively is just part of the oral hygiene equation.
If you would like more information about nutrition and oral hygiene, please contact us or schedule an appointment for a consultation. You can also learn more about this topic by reading the Dear Doctor magazine article "Nutrition & Oral Health."
By Krause Dental
August 06, 2013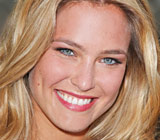 Let's say you happen to be sitting on a plane next to supermodel Bar Refaeli, who was recently voted #1 on Maxim magazine's Hot 100 list. You're a little nervous, but you want to make a good impression. What's the first thing she's going to look at? Your expensive suit? Your sculpted torso? How about — your smile!
"Teeth are the first thing I look at," explained the glamorous cover girl in a Maxim interview. "A nice smile with beautiful teeth is the most attractive thing."
We wholeheartedly agree. But, of course, not everyone is lucky enough to be born with a perfect set of teeth. What to do then?
"Let's just say that with today's orthodontists, I don't understand why people wouldn't fix them," Refaeli stated. Need we say more?
The Israeli supermodel, who has appeared in several Sports Illustrated swimsuit issues, knows what she's talking about. Refaeli started modeling as a young child, but had to put her career on hold for a few years while she got braces. When they came off, at age 11, she began her steady climb to the top of the modeling business.
Plenty of aspiring actors and models — as well as regular folks — get braces as children. But if you're serious about improving your smile, it's never too late to have orthodontic treatment. For adults, there are many options available in addition to the standard metal appliances.
Colorless ceramic braces offer a less noticeable way to correct misaligned teeth. Made of high-tech materials that resist staining, their translucent appearance blends so well with the look of your natural teeth that it can be hard to tell you're wearing them.
Clear aligners are an alternative to braces that are worn 20-22 hours per day. They consist of a series of precision-made, transparent "trays" that gradually straighten your teeth over a period of time. Best of all, you can remove them for special occasions — like meeting a supermodel.
Which type of orthodontic treatment is best for you? Why not come in for a consultation and find out! Working together, we can evaluate your situation and develop an effective, individualized treatment plan that fits your lifestyle.
If you have questions about orthodontic treatment, please contact us or schedule an appointment for a consultation. You can learn more in the Dear Doctor magazine article "Orthodontics For The Older Adult."