Westfield's Dental Department
Posts for: September, 2014
By Kenneth Krause, DMD
September 23, 2014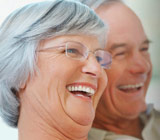 While dental implants are considered the gold standard for tooth replacement, removable dentures are still a viable choice, especially for patients with edentulism (complete tooth loss). Removable dentures have also undergone considerable advancement to improve their function, appearance and longevity.
But even with these advancements, dentures still require a fair amount of skill, experience and — of utmost importance — a sense of art. If you're considering this option, long-term success depends on a careful process of construction, fit adjustment and regular checkups to maintain that fit.
Our first step is to determine exact tooth placement on each denture. Using facial features (or photos before tooth loss) we establish placement landmarks so that corresponding upper and lower teeth align properly. We also consider tooth size, their orientation in relation to the lip, and the needed space to leave between the upper and lower teeth when they are at rest. We make these determinations based on accepted standards of beauty, but also taking into account your particular comfort level with any features that might alter your appearance.
The denture's gums must also look realistic when you smile, especially if your upper lip rises above the teeth to expose more gum tissue. We also want to match the color and texture of your natural gums, as well as incorporate palatal rugae, the little ridges behind the upper front teeth that aid with speech and chewing food.
When we first place the new dentures in your mouth, we may need to adjust them for balance between the upper and lower sets when they come together. An imbalanced fit could have an adverse effect on your ability to bite, chew and speak normally.
Your dentures should have a good, comfortable fit. Over time, however, you will encounter some degree of bone loss because you no longer have your natural teeth to stimulate bone growth and absorb the forces created during function when your teeth contact. This and other factors may cause your dentures to become loose and uncomfortable to wear. For that reason, it's important for you to visit us regularly to maintain that good fit and check the health of underlying tissues and bone.
Careful planning and denture construction help ensure your new dentures successfully restore form and function to your mouth. Regular monitoring will also ensure they continue to serve you well for as long as possible.
If you would like more information on removable dentures, please contact us or schedule an appointment for a consultation. You can also learn more about this topic by reading the Dear Doctor magazine article "Removable Full Dentures."
By Kenneth Krause, DMD
September 08, 2014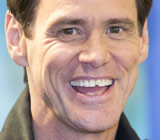 Fans of the classic bumbling-buddies comic film "Dumb and Dumber" will surely remember the chipped front tooth that Jim Carrey sported as simpleminded former limo driver Lloyd Christmas. Carrey reportedly came up with the idea for this look when considering ways to make his character appear more "deranged." He didn't need help from the make-up department, however… He simply had his dentist remove the dental bonding material on his left front tooth to reveal the chip he sustained in grade school!
Creating a Bond
A dental cosmetic bonding involves application of a composite filling material that our office can color and shape to match the original tooth. Bonding material can be used to replace the lost portion of tooth or to seamlessly reattach the lost portion if it has been preserved and is otherwise undamaged. Little to no removal of existing tooth surface is needed. This is the quickest and lowest-cost option to repair a chip.
Alternatives
When a relatively large portion of the tooth is missing, a crown is often the better choice. It fully encases the visible portion of the remaining tooth above the gum line and is shaped and sized to match the original. It can be made of tooth-colored porcelain fused to metal crowns or all-ceramic (optimal for highly visible areas). A small amount of the existing tooth surface will be removed to allow the crown to fit over it.
A veneer can be used to hide smaller areas of missing tooth. This is a thin, custom-made shell placed on the front of the tooth to give it a new "face." Some removal of existing tooth surface also may be necessary to fit a veneer.
A chipped tooth makes an impression, but generally not a flattering one. Nearly 20 years after "Dumb and Dumber" hit the theaters, the only thing Jim Carrey had to do recently to hint at a sequel for his nitwitted character was tweet a photo of that goofy grin!
If you would like more information about repairing a chipped tooth, please contact us or schedule an appointment for a consultation. You can also learn more about this topic by reading the Dear Doctor magazine article "Artistic Repair of Front Teeth With Composite Resin."