Westfield's Dental Department
Posts for: September, 2017
By Kenneth Krause, DMD
September 28, 2017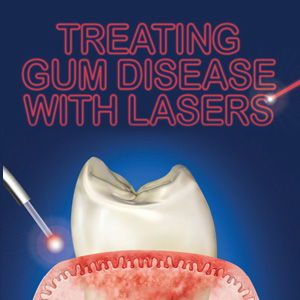 While lasers still seem like science fiction, they've been used commercially (and medically) for decades. But there's still room for growth in practical applications with this developing technology. One promising area is in the treatment of periodontal (gum) disease.
Gum disease is a bacterial infection triggered by plaque, a thin film of bacteria and food particles caused by inadequate oral hygiene. The disease is highly destructive and can eventually lead to both tooth and bone loss. Treatment procedures vary widely, but they all have the same goal: remove the offending plaque and calculus (tartar) from tooth and gum surfaces. Without plaque the infection subsides and the gums can heal.
For decades now, dentists have removed plaque and calculus manually with special hand instruments or ultrasonic equipment. If the disease has advanced below the gum line or formed deep voids filled with infection called periodontal pockets, the dentist may also employ surgical techniques to access the infected areas.
While all these techniques have a long track record for effectiveness, they can cause the inadvertent destruction of healthy tissue, as well as create discomfort for some patients afterward. This is where a new protocol called Laser Assisted New Attachment Procedure (LANAP®) may be able to make a difference in the future.
With the LANAP® protocol, surgeons direct a laser beam of light through a fiber optic the width of three human hairs onto diseased tissue. The particular color of light interacts with the tissue, which contains the darkly-pigmented bacteria causing the disease, and "vaporizes" it. The beam, however, passes harmlessly through lighter-pigmented healthy tissue; as a result diseased tissue is eradicated with little to no harm to adjacent healthy tissue.
With these capabilities, trained dentists using LANAP® for gum disease treatment might be able to achieve conventional results with less tissue removal and bleeding, less discomfort for patients, and less tissue shrinkage than traditional procedures — and without scalpels or sutures. And some post-surgical studies have indicated LANAP® might also encourage gum tissue regeneration in the months following.
LANAP®, however, is still developing and requires further research. Thus far, though, the results have been encouraging. As laser technology advances, it's quite possible tomorrow's patient may experience less discomfort and more effective healing with their gum disease treatment.
If you would like more information on gum disease treatment, please contact us or schedule an appointment for a consultation. You can also learn more about this topic by reading the Dear Doctor magazine article "Treating Gum Disease with Lasers."
By Kenneth Krause, DMD
September 13, 2017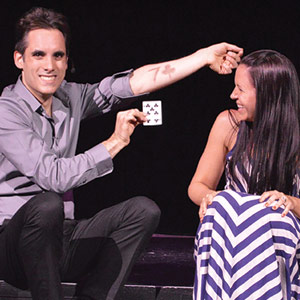 Magician Michael Grandinetti mystifies and astonishes audiences with his sleight of hand and mastery of illusion. But when he initially steps onto the stage, it's his smile that grabs the attention. "The first thing… that an audience notices is your smile; it's what really connects you as a person to them," Michael told an interviewer.
He attributes his audience-pleasing smile to several years of orthodontic treatment as a teenager to straighten misaligned teeth, plus a lifetime of good oral care. "I'm so thankful that I did it," he said about wearing orthodontic braces. "It was so beneficial. And… looking at the path I've chosen, it was life-changing."
Orthodontics — the dental subspecialty focused on treating malocclusions (literally "bad bites") — can indeed make life-changing improvements. Properly positioned teeth are integral to the aesthetics of any smile, and a smile that's pleasing to look at boosts confidence and self-esteem and makes a terrific first impression. Studies have even linked having an attractive smile with greater professional success.
There can also be functional benefits such as improved biting/chewing and speech, and reduced strain on jaw muscles and joints. Additionally, well-aligned teeth are easier to clean and less likely to trap food particles that can lead to decay.
The Science Behind the Magic
There are more options than ever for correcting bites, but all capitalize on the fact that teeth are suspended in individual jawbone sockets by elastic periodontal ligaments that enable them to move. Orthodontic appliances (commonly called braces or clear aligners) place light, controlled forces on teeth in a calculated fashion to move them into their new desired alignment.
The "gold standard" in orthodontic treatment remains the orthodontic band for posterior (back) teeth and the bonded bracket for front teeth. Thin, flexible wires threaded through the brackets create the light forces needed for repositioning. Traditionally the brackets have been made of metal, but for those concerned about the aesthetics, they can also be made out of a clear material. Lingual braces, which are bonded to the back of teeth instead of the front, are another less visible option. The most discrete appliance is the removable clear aligner, which consists of a progression of custom-made clear trays that reposition teeth incrementally.
How's that for a disappearing act?!
If you would like more information about orthodontic treatment please contact us or schedule an appointment for a consultation. You can also learn more about the subject by reading the Dear Doctor magazine article "The Magic of Orthodontics."