Westfield's Dental Department
Posts for tag: nutrition
By Kenneth Krause, DMD
September 09, 2018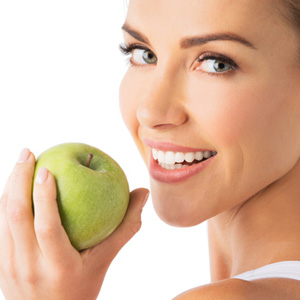 If you're brushing and flossing daily, as well as seeing your dentist at least every six months, you're doing the top things needed to maintain your dental health. But all your hygiene efforts could be undermined if you're not eating a dental-friendly diet. Simply put, there are foods that protect and promote dental health and those that increase your risk of dental disease.
Diets in the latter category are typically high in added sugar and low in natural food fiber. The largest sources of these are processed sugars from sugar cane or beets and high fructose corn syrup. With just a little knowledgeable label reading, you can find sugar and its various aliases added to thousands of processed food items including pastries, candies, sodas and energy drinks.
Heavy consumption of processed sugars also contributes to dental disease. Disease-causing bacteria thrive on sugar as a food source, which fuels both their growth and their production of oral acid. Elevated acid levels can dissolve the minerals in tooth enamel faster than saliva can keep up. Softened enamel opens the door to tooth decay, while increased bacterial growth can lead to periodontal (gum) disease.
A diet, however, low in added sugar and high in fiber can have the opposite effect. Although fresh fruits and vegetables contain natural sugars, they also have indigestible parts called fiber that slow the digestion of any sugars and allow the body to more efficiently process them.  With the higher quantity of vitamins and minerals found in unprocessed foods, the overall effect of this diet is a decrease in your risk for dental disease.
Speaking of dental-friendly foods, we should also give honorable mentions to certain dairy items like cheese and milk that stimulate saliva production and are rich in calcium needed for tooth strength. Another beneficial category is both black and green tea, which contain antioxidants to fight disease and fluoride to strengthen enamel.
Adopting a low-sugar/high-fiber diet can have a profound impact on your overall health. Over time, you'll also reap dental health rewards with stronger teeth and gums and a lower risk of tooth decay and gum disease.
If you would like more information on diet and oral health, please contact us or schedule an appointment for a consultation. You can also learn more about this topic by reading the Dear Doctor magazine article "Nutrition & Oral Health."
By Kenneth Krause, DMD
January 07, 2014
Take a bite out of this: the foods that you eat can help build stronger teeth and healthier gums. Proper nutrition is important in the maintenance of your oral health, which means eating a well-balanced diet so that your body can get the essential nutrients needed for good health. The foods that you choose to eat provide the building blocks needed for renewing your body and this includes your mouth.
If your diet is low in the nutrients that your body needs, your mouth may have a more difficult time resisting infection. So what are the best foods for your teeth? A healthy diet that is rich in fruits and vegetables, whole grains, lean proteins, and unsaturated fats will benefit your overall and oral health.
Dr. Kenneth Krause—Westfield Dentist---Helps Establish a Proper Diet
You can improve your oral health and reduce your risk of developing periodontal disease by eating a well-balanced diet based on the well-known food pyramid. It is recommended that eating a variety of foods from the five major food groups – grains, fruit, vegetables, milk and meat – are highly important. Vitamin and mineral supplements can also help in the preservation of periodontal health in addition to the boosting of overall health and well-being. By offering general dentistry in Westfield, Dr. Krause can help you determine a healthy diet for your needs.
By eating in moderation and variety you can develop eating habits that follow the recommendations of various reputable health organizations to protect your oral health as well as your overall health. Avoid fad diets that limit or eliminate entire food groups, which results in vitamin or mineral deficiencies. Always keep your mouth moist by drinking water because your saliva protects both hard and soft oral tissues. When you have a dry mouth, substitute your diet with sugarless candy or gum to stimulate your saliva.
Attack of the Soda Pop
Living in a fast food era, it is hard for people to avoid the urge to drink sugar filled soda. Many people will grab a pop, or iced tea instead of water. Pop doesn't just contain empty calories, but it also contains sugars that can harm enamel, which is the protective shell around your teeth. Over time exposing dental enamel to carbonated beverages and non-carbonated canned ice tea weakens and permanently destroys enamel, according to the Academy of General Dentistry.
About 27 percent of the beverages that are consumed by Americans are soft drinks, which have steadily increased over the years and continue to rise. As a result, oral health problems, mainly cavities, have continued to rise every year. Repeated exposure over a long period of time increases your risk of getting a cavity. Drinking pop through a straw may help in reducing the amount of soda that comes into direct contact with your teeth. It is also recommended that
rinsing
your mouth out with water after drinking and using toothpaste that contains fluoride may also help in preventing further damage from the sugars.
Protect your mouth beginning with proper nutrition and dieting.
Contact
Dr. Kenneth Krause, your dentist in Westfield, IN, today for advice on proper nutrition and how it can help establish a healthy mouth and body.
By Krause Dental
August 21, 2013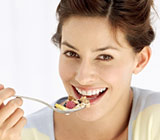 What and how you eat and drink has a significant impact on the health of your teeth and gums. Therefore, an effective oral hygiene regime must take your diet into account.
Acid is your teeth's enemy; it can erode their protective enamel coating (a process called demineralization). Certain foods and beverages (such as citrus drinks and coffee) contain it, and it's produced by bacteria in your mouth that feed on dietary sugar and release acid as a byproduct (a process called fermentation). Your allies are foods and beverages that neutralize acids, provide minerals and vitamins to repair tooth enamel, and stimulate saliva.
Sugar & Decay
Sugars, the leading promoter of dental decay, exist in many forms in our diet. Some occur naturally, while others — referred to as "free sugars" — are added by the manufacturer, cook or consumer. The latter are most often linked with decay. Soft drinks are the primary source of dietary free-sugars in the U.S.
Sugars in fruit, vegetables, milk and unprocessed, starch-rich foods such as rice, potatoes and whole grains, do not appear to be harmful to teeth. Note, however, that dried fruits contain a highly concentrated sugar level and can stick to tooth surfaces. The sugar substitutes xylitol and sorbitol appear not to promote decay. In fact, there's evidence that chewing xylitol-sweetened gum three to five times daily for at least five minutes (after meals) stimulates saliva flow, which helps protect against decay.
Acids & Erosion
In addition to eroding tooth enamel, acidic foods and beverages create an environment where it's easier for decay-promoting bacteria to flourish. Saliva can reduce acidity but it must have time to work, at least 30–60 minutes. That's why behaviors that maintain acid levels, such as sipping coffee throughout the day, can be harmful.
Saliva-Promoting Saviors
Saliva is a front-line defense against erosion and decay. It helps remove food particles and contains minerals that help neutralize acid and promote remineralization of the tooth surface. Foods that stimulate saliva and/or contribute essential minerals include:
Cheese — stimulates saliva and is rich in calcium, contributing to the re-calcification of teeth and protecting against the loss of calcium,
Cow's milk — contains decay-counteracting calcium, phosphorous and casein,
Plant foods — are fibrous and require chewing, which mechanically stimulates saliva,
Water — keeps you hydrated, which is important for saliva production and preventing dry mouth (a condition that promotes acid-producing bacteria), and helps wash away food particles; fluorinated water bestows the protective properties of fluoride (a compound that makes tooth enamel more resistant to acid erosion and promotes re-calcification).
As you can see, brushing and flossing effectively is just part of the oral hygiene equation.
If you would like more information about nutrition and oral hygiene, please contact us or schedule an appointment for a consultation. You can also learn more about this topic by reading the Dear Doctor magazine article "Nutrition & Oral Health."