Westfield's Dental Department
Posts for tag: root canal treatment
By Kenneth Krause, DMD
May 07, 2019
May is National Save Your Tooth Month, and tooth decay is a leading cause of lost teeth. It all begins with oral bacteria growing rapidly in built-up deposits of dental plaque, and in turn producing high levels of acid. At these levels, acid can erode the minerals in tooth enamel to create holes ("cavities") that allow bacteria to enter the tooth and infect it.
If at all possible, we need to try to stop tooth decay early by disinfecting and filling these cavities. If not, decay can spread through the teeth to the underlying nerve (pulp) tissue, following passageways known as root canals. If this happens, the chances for saving the tooth are extremely low.
But if the decay does reach the tooth's innermost layer—the pulp—filling the cavities won't be enough. Decay this advanced requires a procedure known as root canal therapy, or a root canal for short.
If you winced a little, it's understandable: Root canals have gained an unfair reputation as an unpleasant experience. In reality, a root canal performed by a skilled dentist or endodontist (a specialist in root canals) isn't painful. In fact, if you come in with a painful tooth, you're very likely to leave after the procedure without any pain.
Root canal procedures can vary depending on the type of tooth and the intricacy of its root canal network. Essentially, though, we remove the diseased pulp tissue, and then clean and fill the empty pulp chamber and root canals. This stops the infection and, along with sealing and crowning the tooth, helps prevent a future re-infection.
How do you know if you need a root canal? You may find out from us if we discover advanced decay during a checkup or cleaning appointment. But you may encounter signs yourself like a throbbing toothache, pain during and after eating and drinking, or gum tenderness around a tooth. These are all possible indications of tooth decay.
If you experience any of these signs, you should see us as soon as possible for an examination. And don't cancel your appointment if the pain goes away—this could simply mean the nerves in the pulp have died and are no longer transmitting pain signals. The infection, though, could still be there and continuing its rampage beyond the tooth and into the surrounding bone tissue.
Root canal therapy may not seem glamorous, but it's an excellent option for a diseased tooth that would otherwise have to be removed. A root canal could get rid of your pain and give your troubled tooth a new lease on life!
If you would like more information about treating advanced tooth decay, please contact us or schedule an appointment for a consultation. To learn more, read the Dear Doctor magazine articles "Common Concerns About Root Canal Treatment" and "Root Canal Treatment: What You Need to Know."
By Kenneth Krause, DMD
October 09, 2018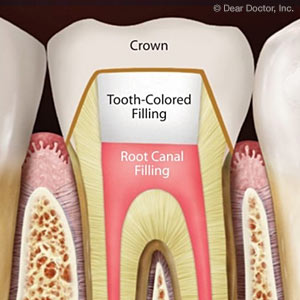 A tooth with deep decay is in real peril. If the disease isn't stopped, it can eventually infect the bone and greatly increase the risk of losing the tooth. But tooth decay removal and a root canal treatment can stop advancing decay and resulting infection in its tracks.
During this common procedure we first drill into the tooth to access the inner pulp. After removing the infected pulp tissue, we disinfect and fill the empty chamber and root canals with gutta percha. We then seal the tooth and crown it to protect against re-infection.
But while most root canals are successful and long-lasting, sometimes the tooth becomes re-infected. Here are 3 factors that could affect the long-term success of a root canal treatment.
Early treatment. Like many health problems, the sooner we detect decay and treat it, the better the outcome. A tooth in which the infection has already advanced beyond the pulp is at greater risk for re-infection than one in which the infection is localized in the pulp. Keeping up your regular dental visits as well as seeing the dentist at the first sign of abnormality—spots on the teeth or pain—can increase your chances of early diagnosis.
Tooth complications. Front teeth with their single roots and canals are much easier to access and treat than a back molar with an intricate root canal network. Root canals can also be extremely narrow making them easy to miss during treatment. In cases like this the expertise and advanced equipment of an endodontist (a specialist in root canal treatment) could help increase the odds of success in complex situations.
The aging process. Teeth do wear over time and become more brittle, making them increasingly susceptible to fracture. A previous root canal treatment on an aging tooth might also increase the fracture risk. To avoid this, it's important for the tooth to receive a crown after the procedure to protect the tooth not only from re-infection but undue stress during chewing. In some situations, we may also need to place a post with a bonded composite buildup within the tooth to give it extra support.
Even if a tooth has these or similar complications, a root canal treatment may still be advisable. The benefits for preserving a decayed tooth often far outweigh the risks of re-infection.
If you would like more information on root canal treatments, please contact us or schedule an appointment for a consultation. You can also learn more about this topic by reading the Dear Doctor magazine article "Root Canal Treatment."
By Kenneth Krause, DMD
August 29, 2017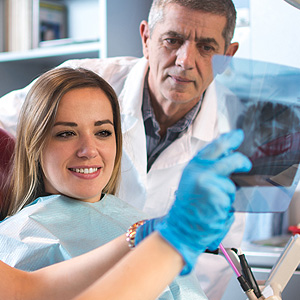 You've recently learned one of your teeth needs a root canal treatment. It's absolutely necessary: for example, if you have decay present, it will continue to go deeper within the tooth and it will spread to the roots and bone and could ultimately cause you to lose your tooth. Although you're a little nervous, we can assure you that if we've recommended a root canal treatment, it's the right step to take for your dental health.
There's nothing mysterious — or ominous — about a root canal. To help ease any fears you may have, here's a step-by-step description of the procedure.
Step 1: Preparing your mouth and tooth. We first take care of one of the biggest misconceptions about root canals: that they're painful. We completely numb the tooth and surrounding tissues with local anesthesia to ensure you will be comfortable during the procedure. We isolate the affected tooth with a thin sheet of rubber or vinyl called a rubber dam to create a sterile environment while we work on the tooth. We then access the inside of the tooth — the pulp and root canals — by drilling a small hole through the biting surface if it's a back tooth or through the rear surface if it's in the front.
Step 2: Cleaning, shaping and filling the tooth. Once we've gained access we'll clear out all of the dead or dying tissue from the pulp and root canals, and then cleanse the empty chamber and canals thoroughly with antiseptic and antibacterial solutions. Once we've cleaned everything out, we'll shape the walls of the tiny root canals to better accommodate a filling material called gutta-percha, which we then use to fill the canals and pulp chamber.
Step 3: Sealing the tooth from re-infection. Once we complete the filling, we'll seal the access hole and temporarily close the tooth with another filling. Later, we'll install a permanent crown that will give the tooth extra protection against another infection, as well as restore the tooth's appearance.
You may experience some mild discomfort for a few days after a root canal, which is usually manageable with aspirin or ibuprofen. In a week or so, you'll hardly notice anything — and the tooth-threatening decay and any toothache it may have caused will be a distant memory.
If you would like more information on root canal treatments, please contact us or schedule an appointment for a consultation. You can also learn more about this topic by reading the Dear Doctor magazine article "A Step-by-Step Guide to Root Canal Treatment."